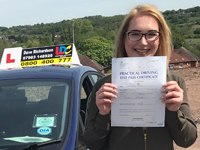 Kim Thorn
Great Drive
Thank you so much for putting up with me and supporting me through my learning experience, I don't think any other instructor would have managed! You have the patience of a saint! Couldn't have found a better instructor out there, I'll always be able to look back at good memories and recommend you to anyone!! Laid back, easy to talk to and 100% a top guy. Thanks again!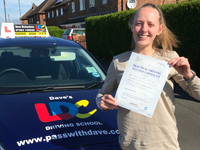 Michelle Thorn
Great Drive
After many attempts at failed/unprofessional instructors, I finally found Dave! I couldn't rate him enough, highly recommended, passed second time, first time with Dave! (Failed with another instructor). Thanks Dave for all your help and amazing patience! I'll miss our time together! A++ 5** hope to see you around ! Beep beep! Thanks again you're awesome!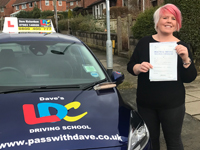 Tracey Rimmer
Passed 1st Time
After 3 previous instructors over the years and getting no-where, I either got bored or gave up. Dave not only kept me driving, but made lessons something I looked forward to each week, because he gave me confidence and belief that I didn't have in myself. Due to working in education, my test had to be outside the term time schedule, so I was unable to fit a test within the week intensive course unless I waited until February half term.
After a discussion with Dave, we decided instead of waiting till Feb, we worked on still booking 30hrs of driving (that worked best for me) and booked my test for 20th Feb during the half term break and worked towards that date. I'd done my theory before (which ran out years ago, so I had to do it again) I'd never had a test date booked, or felt test ready before, so that was a huge motivator. My biggest nightmare has always been roundabouts, so as my lessons were focused on what I wanted to do, every lesson involved a roundabout of some description. I was a person if my husband took me out in our car and it involved a roundabout, I would refuse that route, or I would make him drive! Not only did Dave get me using roundabouts with confidence, I feel like around every corner on my test was a roundabout which didn't faze me at all. I had gone from hating roundabouts to perfecting them and all this helped me pass my test first time.
I thought I'd never get to pass a driving test and I thought I'd never be able to get round a roundabout without guidance and support. I didn't even need the full 30hrs driving, because Dave was definitely the right instructor for me and I have no hesitation recommending him to anyone wanting to learn to drive, especially if like me, you have tried others and given up hope. I now have my independence to go where I want and there's no longer a car sitting doing nothing all week in my drive. 👍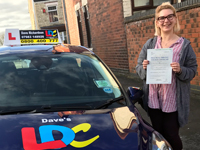 Holly Hatton Baldwin
Passed 1st Time
I had tried to learn to drive 5 separate times, using different methods each time and had never been successful in tackling my nerves or ever felt ready for my test. With Dave and the LDC system, I passed first time after an intensive 3 weeks and had the most fun driving I'd ever had. I'd always had problems with my nerves, but Dave was reassuring, calm and easily assessed both my existing abilities and shortcomings in order to help teach me in a way that worked for me. I felt in control the whole time as the course is more learner-led than conventional lessons, and Dave always made sure I was leading the sessions with what I wanted to learn and practise in that lesson. I've not only passed my test after years of trying, but I've learnt to enjoy driving, which I never thought possible! Dave was the perfect instructor for me, and taught me to not only pass my test, but be a good and safe driver independently.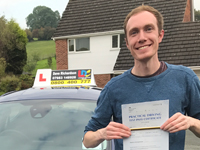 Tom Hulley
Great Drive
Dave is a calm, supportive and professional instructor. He has really helped me to build my confidence in driving and improve my knowledge of road safety. Dave's enthusiasm as an instructor has kept me engaged and motivated. I have enjoyed being taught by the LD System as the accompanying work book and DVDs have allowed me to prepare for lessons at my own pace and make the most of driving time. I have found the structure of the lessons particularly helpful as they have ensured that all the eventualities encountered on test are covered. Thank you Dave for your encouragement and expertise.